South West Office
The Old Stable
Unit 3 Wick Business Centre
Upper Wick
Dursley
Gloucestershire
GL11 6DE
01453 706444
[email protected]
South Wales Office
Ty Darlington
Pontrhondda Road
Llwynypia
Tonypandy
Rhondda Cynon Taff
CF40 2SZ
01443 806177
[email protected]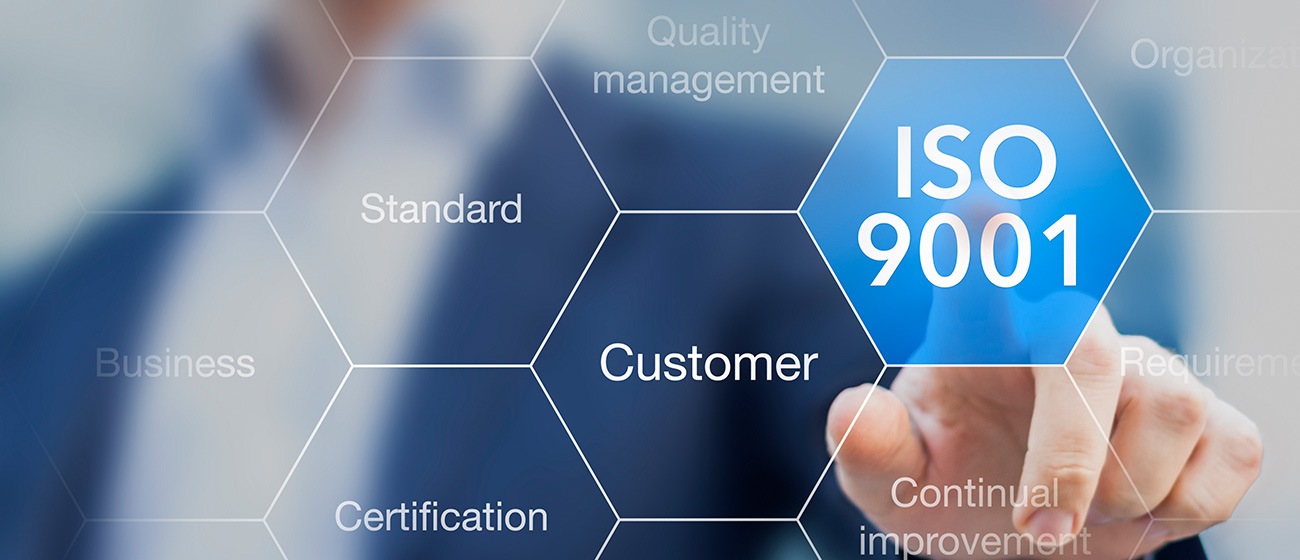 Certification/Training
ISO9001
We have recently gained certification for ISO9001 accreditation. ISO 9001 Quality Management certification helps our business in many ways;
Continually improve, streamline operations and reduce costs
Win more business and compete in tenders
Satisfy more customers
Be more resilient and build a sustainable business
Show we have a strong corporate governance
Work effectively with stakeholders and our supply chain
We outsource our Health Safety but be assured we have regular contact and advice from our consultants. We are SMAS/CHAS registered and all our operatives have CSCS/CPCS or Plant Operator NPORS certificates.
---
SMAS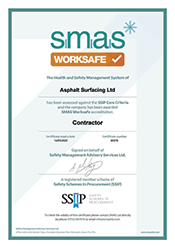 We are pleased to have gained a SMAS Worksafe certificate. This means that we have met the SSIP core criteria recognised by the HSE and other SSIP accreditation schemes. Meeting the SSIP Core Criteria demonstrates that we are serious about H&S and have an effective H&S Management System to ensure that any work they are engaged in is, so far as reasonably practical, carried out without risk to health and safety.
---
CHAS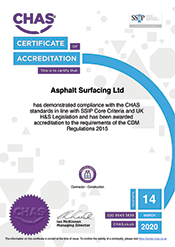 CHAS (The Contractors Health and Safety Assessment Scheme) was created by experienced health and safety professionals in 1997 to improve health and safety standards across the UK.
In partnership with the Association of London Government (ALG), CHAS was a key developer of the core criteria held in the Approved Code of Practice which supported the Construction (Design and Management) Regulations 2007 (now recognised as CDM 2015) and is a founder member of SSIP (Safety Schemes in Procurement). As one of the founders of third party accreditation they are not only a trusted advisor on health and safety compliance, they are an authority. They set industry benchmarks, provide assurance and reassurance, and offer best-in-class services that are easy to use.
---
Builders Profile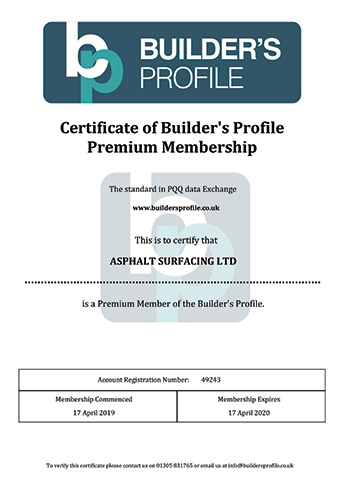 Builder's Profile is the open-access Common Database service providing compliance and PQQ information to the construction industry.
Their secure Common Database enables subcontractors and suppliers to easily maintain and share information. For main contractors and clients it provides all the information, documents and tools required to manage a supply chain no matter how large or small.
---
A CSCS/CPCS card is:
A certification of the cardholder's identity, qualifications and training.
All our workforce are 100% certified and hold CSCS/CPCS cards.
---
SMSTS/SSSTS
Our Supervisors and Foreman currently hold SSSTS/SMSTS certification.
The certification draws attention to our Site Supervisors and Foreman to their legal responsibilities regarding health, safety, welfare and environmental issues.
---
NHSS 16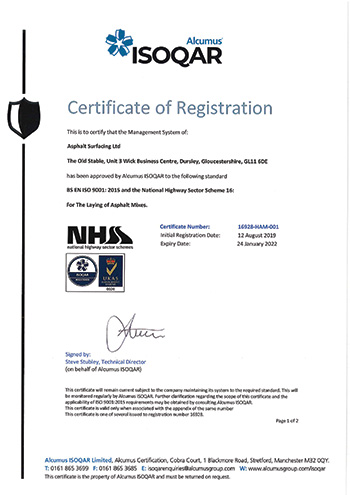 The above stands for "National Highways Sector Schemes for Quality Management in Highway Works 16 for the laying of asphalt mixes"
Asphalt Surfacing have recently been awarded Certification for NHSS 16.
---
Quality Policy Statement
You can view/download our quality policy statement by clicking here.